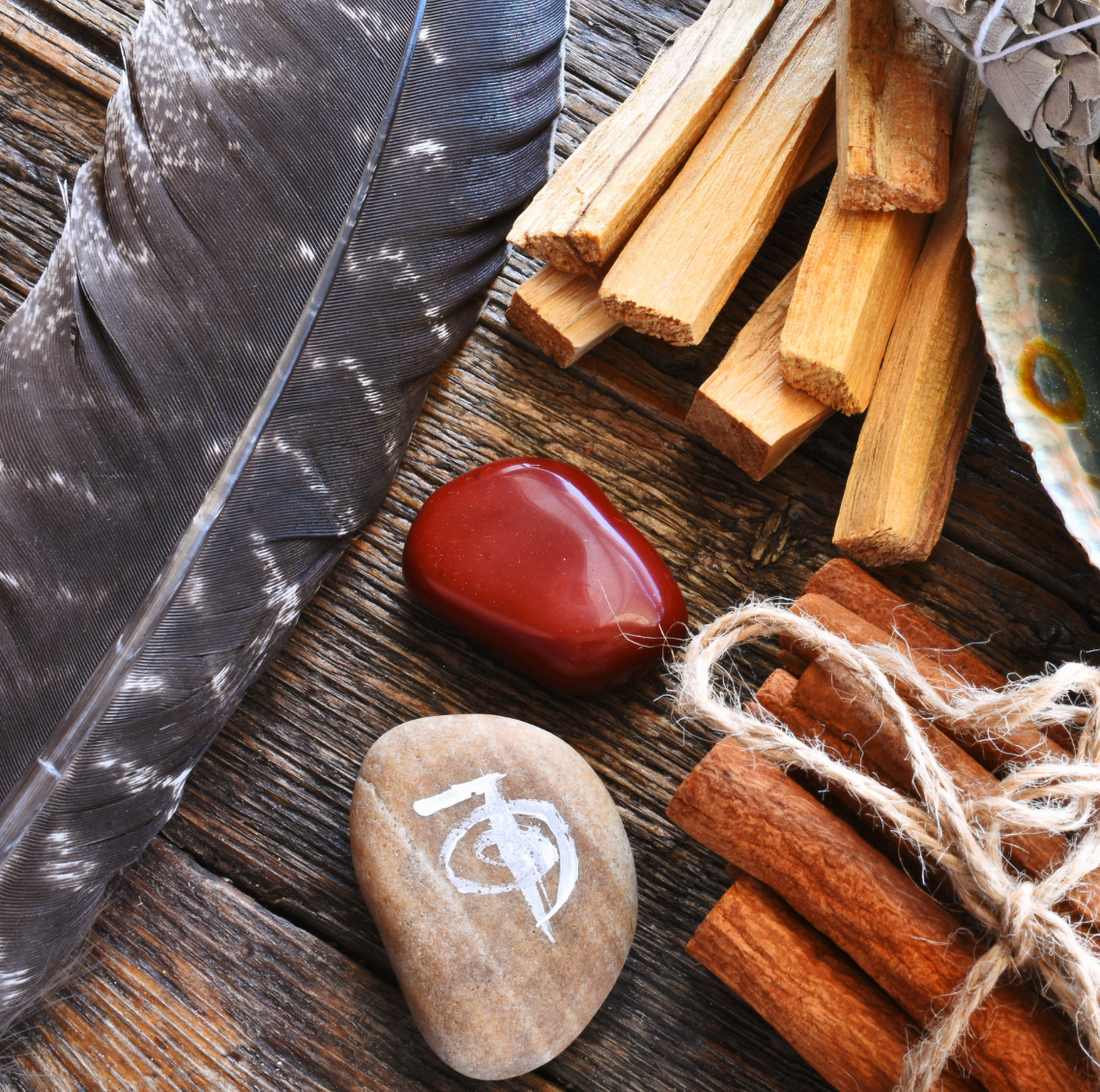 Legends and Myths of Red Jasper: Tales of Earth's Protective Stone
Legends and Myths of Red Jasper: Tales of Earth's Protective Stone
Here at Headless Nation we are firm believers in the magic of gemstones and LOVE finding old tales and stories about how crystals have been used throughout history and by ancient cultures. Today we are going to take you on a journey through the legends and myths of Red Jasper. This captivating gemstone has been cherished by cultures worldwide for its protective energies and deep connection to the earth's power. So, go pour yourself a cuppa and let's dive into the mystical world of red jasper!
Red Jasper Through the Ages
Red Jasper has been revered by ancient peoples and civilisations throughout the world as a sacred and powerful stone of protection. The virtues of Red Jasper have been extolled throughout the ages by the most noted physicians, magicians, poets, scientists, lapidaries and scholars. Red Jasper was thought of as a healer of the spirit. The stone symbolises and is said to bring vibrancy, endurance and energy. It has been a powerful stone of Warriors and promoters of justice. Red Jasper even made an appearance in Egypt, where it was a symbol of their goddess Iris, life and magic. 

Now days, pieces of Red Jasper jewellery are cherished for their historical significance and earthy wonder .
The Protective Powers of Red Jasper
Red jasper is often referred to as the "supreme nurturer" due to its protective nature. It is believed to shield its wearer from negative energies and instil a sense of security and stability. Pieces of Red Jasper jewellery become a trusted guardian for the wearer.
Red Jasper as a Guardian Stone
Red Jasper can make you feel connected to the earths protective embrace. Its here to help in times of uncertainty and change by giving you the power, strength and energy to carry on.
Myths and Legends of Red Jasper

Yay, our favourite part! Prepare to be enchanted by the ancient myths and legends surrounding Red jasper!!!
In one fascinating tale, it is said that Red Jasper was born from the blood of powerful gods and goddesses, infusing the stone with their divine essence. This belief reflects the idea that Red Jasper possesses the primal energies of the earth, making it a conduit for grounding and protection.
According to Viking and Germanic legend, the hilt of the magical sword of Siegfried, the dragon slayer, was inlaid with Red Jasper to bring him courage.
The Ancient Tale of Red Jasper's Origins
According to legend, Red Jasper was created when drops of blood fell from the shoulders of Mother Earth, seeping into the ground and solidifying into the beautiful stone we know today. 
Red Jasper's Role in Spiritual Practices
Red jasper's spiritual significance goes beyond its protective attributes. It is also believed to facilitate a deeper connection with the earth's energies, promoting grounding and balance. Many individuals use Red Jasper during meditation and healing practices to align their energies with the nurturing embrace of Mother Earth. 
RED JASPER HEALING PROPERTIES
Red Jasper is still known as a stone of endurance and energy today. It is said to be emit a gentle but vital energy of life force, bringing physical strength and energy, stamina, focus and determination. This creates a lasting, stable energy for improving health, seeing goals and completing them, and being able to move through life with ENERGY. Red Jasper helps us connect with Mother Earths grounding energies, and is a beautiful stone to wear when your nerves need soothing. 
The Beauty of Red Jasper Jewellery
Aside from its earthy properties and oh so mystical legends, Red Jasper jewellery is undeniably stunning.  With its deep reds ranging from bright to earthy and brownish, it often has visible clear quartz inclusions and veins running through it. Each stone exudes a natural elegance than compliments various styles and occasions. 
At Headless HQ, we really to have a soft spot for this stone, its one that really feels like it captures the essence of the Earths elemental power. The intention behind each piece is to create a potent talisman that serves as a source of strength, vitality and protection for the wearer.
Caring for Red Jasper Jewellery: Preserving its Protective Energies
To maintain the vibrancy and protective energies of Red Jasper jewellery, give it a little love and mindfulness. Cleansing the stone regularly and recharging it under the sun or the moon keeps its energies at their peak, ready to serve as a faithful guardian.
We hope you've enjoyed hearing about the mystical legends and myths that surround Red Jasper and all the magic it brings with it. This extraordinary gemstone, with its protective energies and deep connection to the earth, has captured the hearts of many throughout history. We feel privileged to share the stories and wonders of Red Jasper through the jewellery we create, and thought going back and exploring the stones origins might interest you as much as it does us! 
So, embrace the legends of Red Jasper, and let it be a source of strength and protection on your journey through life's adventures! Whether you're drawn to its earthy beauty, spiritual significance or claims of vitality and energy, Red Jasper is truly a gemstone that embodies the essence of the Earth's protective embrace. Embrace its energies and let it guide you towards a life of grounding, balance, and vitality.