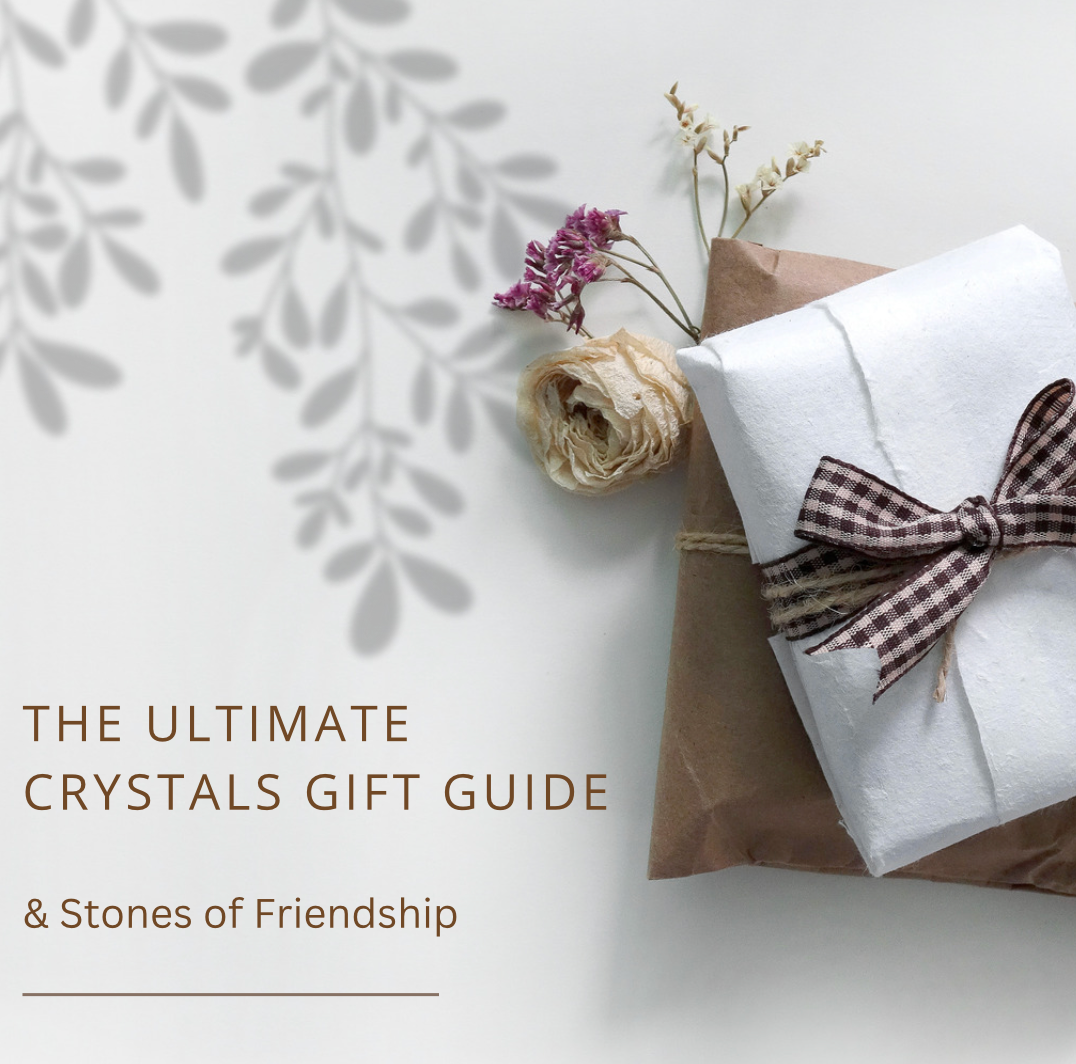 The Ultimate Gift Guide for Crystal Jewellery Lovers
The Ultimate Gift Guide for Crystal Jewellery Lovers
Hello dear one! If you're on the lookout for a gift that speaks volumes and symbolises lasting connections, beaded crystal jewellery is a great way to go! These exquisite creations have a magical ability to capture hearts and convey emotions like no other. Whether it's for a special occasion or just to show someone you care, the right piece of crystal jewellery is the perfect choice. In this ultimate gift guide, we'll explore the significance of friendship stones, and how you can find the perfect piece to celebrate those you cherish.

Understanding the Appeal of Beaded Jewellery 
Beaded crystal jewellery has a certain magic that draws us in, and it's no surprise why. These handmade treasures have a unique charm and energy that mass-produced pieces simply can't replicate! Every bead is carefully chosen, strung, and arranged to create a unique little masterpiece. At Headless Nation, all the stones we use are made my Mumma Earth herself, and then turned into wearable treasures by us. It's this craftsmanship, attention to detail and working WITH Mother Earth that makes our beaded jewellery oh so special (if we do say so ourselves!)
Decoding the Significance of Friendship Stones 
Friendship stones have always been popular for their properties in fostering friendship, harmony, and connection. Each gemstone is said to carry its own unique energy that can enhance specific emotions or qualities, meaning that some stones hold very specific energies surrounding friendship.
We've created a little list below of the ultimate top 4 Friendship stones and their unique meanings…
Amazonite: We ALWAYS love to recommend this stone first for any gift! Amazonite is said to soothe the soul and calm the spirit, and is also known as the female warrior woman stone! The ultimate empowerment piece, gifting Amazonite either says "You're a warrior woman to me!" or "Here's a little tool to help you become a warrior woman".
Jade: Literally known as the stone of friendship, Jade is said to bring health and wealth to the wearer… and we think that is a very beautiful thing to gift indeed!

 

Rose Quartz: Embracing love and compassion. Rose Quarts is all about creating loving connections with those nearest and dearest to you. Said to help bring harmony to relationships and friendships by helping the wearer have an open, clear heart.
Lapis Lazuli: Lapis Lazuli is all about communication. It helps the wearer say exactly how they feel and creates honest and open conversations, making it a beautiful friendship and relationship stone.
Each of these gemstones are the perfect tokens of love and friendship.
Finding the Perfect Crystal Gift 
Choosing the right crystal jewellery gift involves a blend of personal taste and meaningful intention. Consider the recipient's style, birthstone, or any specific intentions they may have. Remember, perhaps none of the crystals above appeal to you as the perfect stone for your gifts, and that's ok! Maybe the recipient is super earthy and would see more significance and thought in an earthy toned, grounding stone. Maybe they desperately need a little peace, in which case Angelite is your go too! Maybe they are stressed and White Howlite, being the ultimate stress relieving stone, is exactly what you know they need. The beauty of gifting crystals are that the recipient can see exactly why you chose that particular stone for them, they can see the thought behind it, and that's a pretty special thing indeed! 
Celebrating Special Occasions  & Honouring Moments with Beaded Crystal Jewellery 
Beaded crystal jewellery is a perfect companion for celebrating special occasions or little life moments. Birthdays, anniversaries, graduations, or even little life achievements can all be honoured with crystals. These pieces are not just accessories; they hold sentimental value, capturing the essence of the moment. 
Beaded Jewellery for Self-Love and Empowerment 
As much as beaded jewellery makes an excellent gift for others, don't forget to treat yourself! Self-gifting crystals is beautiful little act of self-love. Crystals all have their own energies, meanings and healing properties, and wearing them can be a reminder to set intentions and embrace personal growth. We love sharing the little story behind all our jewellery and brand, being that we want to create daily moments of mindfulness and meditation through jewellery. Life is busy…(ok, very busy!) but if you can allow yourself one moment as you slip on your piece each morning to be reminded of its specific healing energy that is here to help you, then that's one little moment of peace and mindfulness you have given yourself to start your day. 
Let us share a little example. Tigers Eye is stone known for enhancing strength, confidence and protection. Wearing it can serve as little daily reminder of our inner strength, power and help you move through your day with a little more confidence.
The Sentimental Value of Handmade Beaded Jewellery 
There's definitely a strong sense of sentimental value behind gifting any piece crystal jewellery. You really can gift someone a little tool to help them through a life event, or capture a beautiful life moment in a piece unlike any other gift… Its something they will have and treasure for years to come (if you pick the right one… no pressure! You can always email us if you want to share the recipients story and we'll help you find the PERFECT stone for them!) 
In the world of gift-giving, beaded crystal jewellery stands out as a meaningful and heartfelt choice. The symbolism of friendship stones and the beauty of the craftsmanship make these pieces truly special. Whether you're celebrating a cherished friendship, helping someone though a touch time or embracing self-love, beaded crystal jewellery has the power to create lasting memories. So, the next time you're in search of the perfect gift, consider the magical world of beaded jewellery to convey your heartfelt emotions.
Big Love, 
XO