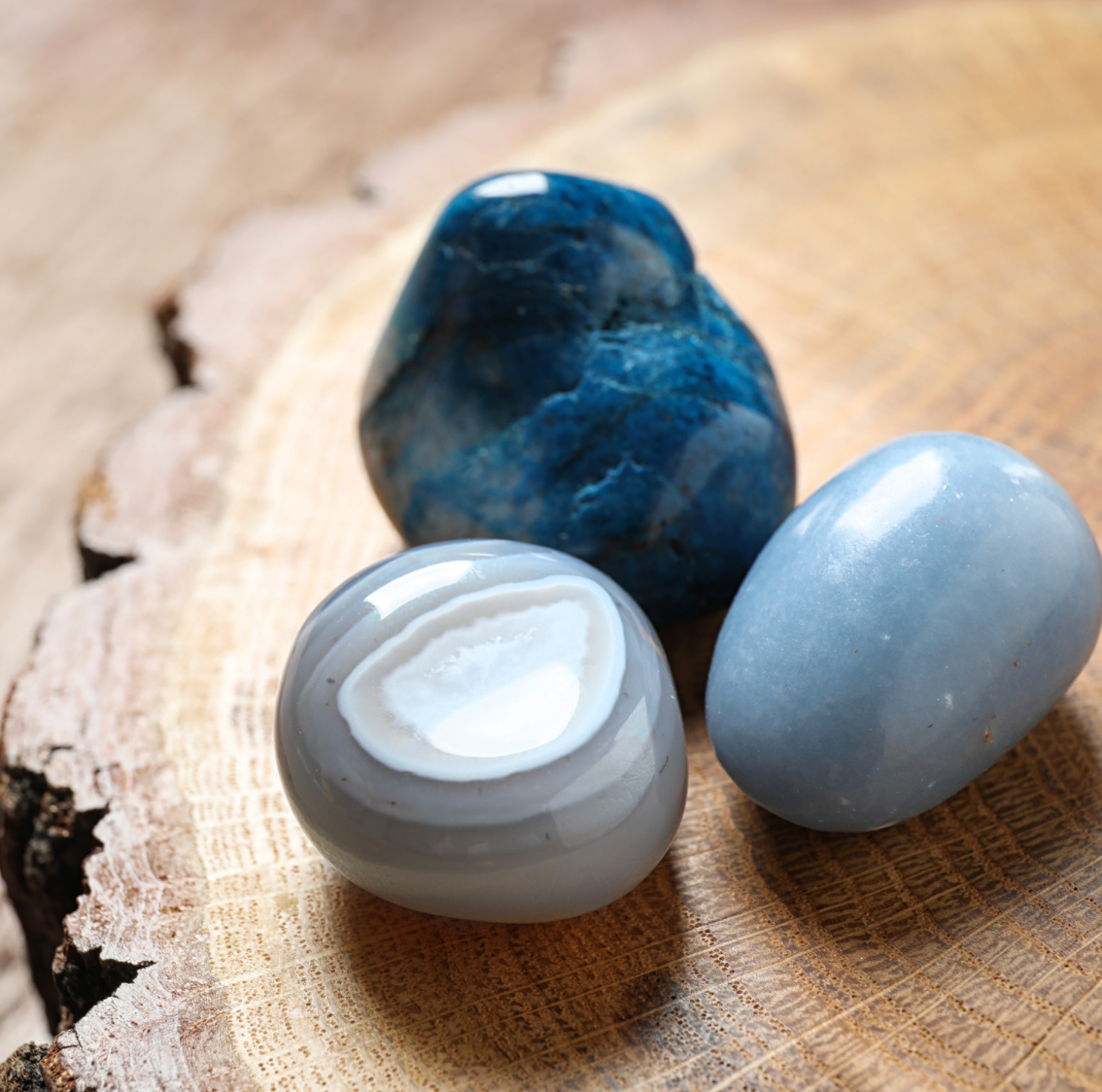 Angelite Healing Properties: Embracing Tranquility and Inner Peace
Angelite Healing Properties: Embracing Tranquility and Inner Peace
 Hey there, crystal lovers! Today we're going to take a little journey into the peaceful world of Angelite. With its soothing blue hues and gentle energy, Angelite has the power to bring tranquility and inner peace into our lives. In this blog, let's dive into the world of Angelite healing properties and how this heavenly gemstone can foster a deeper spiritual connection and communication with the divine.
Angelite: A Gem of Spiritual Connection 
Angelite has been revered as a gemstone that bridges the gap between the earthly and the divine. Its a stone that can act as a direct line to the spiritual realm. Angelite's energy has the ability to wrap us in a cocoon of tranquility and brings a deep sense of peace in a crazy world.
Embracing Divine Communication through Angelite 
One of the most fascinating aspects of Angelite is its association with divine communication. People often describe feeling a deeper sense of clarity and ease in connecting with their spiritual guides and higher realms when holding or wearing Angelite. It's believed to act as a channel for receiving messages from our guardian angels, and act as a conduit for divine communication and guidance in life.
The Calming & Peaceful Influence of Angelite
In this fast-paced world, finding moments of tranquility can feel like a luxury. Angelite, with its calming and soothing energy, is like a breath of fresh air amidst the chaos. Thought of as an instrument of peace, Angelite is also here to help the wearer remember that there is a difference between creating real peace and "keeping the peace". Sometimes you have to speak up and stand up for yourself, often no easy feet for a sweet, gentle soul, and as a stone of communication Angelite can help! Over the years we have watched Angelite provide a sense of security to those who feel the pull towards it. It has been genuinely heartwarming to witness how a crystal can offer such profound solace.
Angelite in Meditation and Mindfulness Practices 
Angelite's tranquil energy makes it a perfect companion for meditation and mindfulness practices. Whether you're a seasoned meditator or a beginner seeking peace of mind, Angelite can enhance your experience. 
Healing Properties of Angelite 
Beyond its spiritual properties, Angelite is also known for its healing potential. Many believe that Angelite can aid in physical healing, especially in the throat. We once had an older lady find our little shop and out of the many tables of beaded jewellery the ONLY stone she had eyes for was Angelite, so she purchased our Gold Angelite Bracelet. She didn't know anything about the properties of the stone, so we shared Angeline's story with her. She returned a month later and shared that since last seeing her she had ended up having a big throat surgery. She said se couldn't believe how it had lined up with her finding the Angelite piece and said she hadn't let it leave her body, feeling that it was truly helping her through this time. We thought it was so interesting that that was the only stone she was drawn to, and the synchronicity of the timing! 
Angelite Jewellery: A Reminder of Peace 
Wearing Angelite jewellery is like carrying a tranquil sanctuary with you wherever you go. It serves as a gentle reminder to embrace peace and tranquility in the midst of life's challenges. Angelite encourages us to be involved in community building and the wider world. It asks us to believe that community and peace are possible, and that each of us has our own individual role to play.
Caring for Angelite Jewellery

Proper care ensures that Angelite jewellery continues to radiate its calming energy. Avoid long exposure to direct sunlight, as it may cause the gemstone's colour to fade. Cleansing Angelite periodically with water or a soft cloth will help maintain its purity and effectiveness.
As we come to the end of our journey through the enchanting world of Angelite healing properties, we're reminded once again of the transformative power of crystals. Angelite, with its calming influence and ability to foster spiritual connection, truly stands as a stone of tranquility and inner peace. Whether you're seeking to deepen your spiritual connection, find solace in stressful times, or simply embrace the beauty of a tranquil gem, Angelite is here to wrap you in its celestial embrace.
So, my fellow crystal enthusiasts, I hope this blog has inspired you to explore the serenity of Angelite and invite its tranquil energy into your life. May this heavenly gemstone become your constant reminder to embrace tranquility and find peace within yourself.