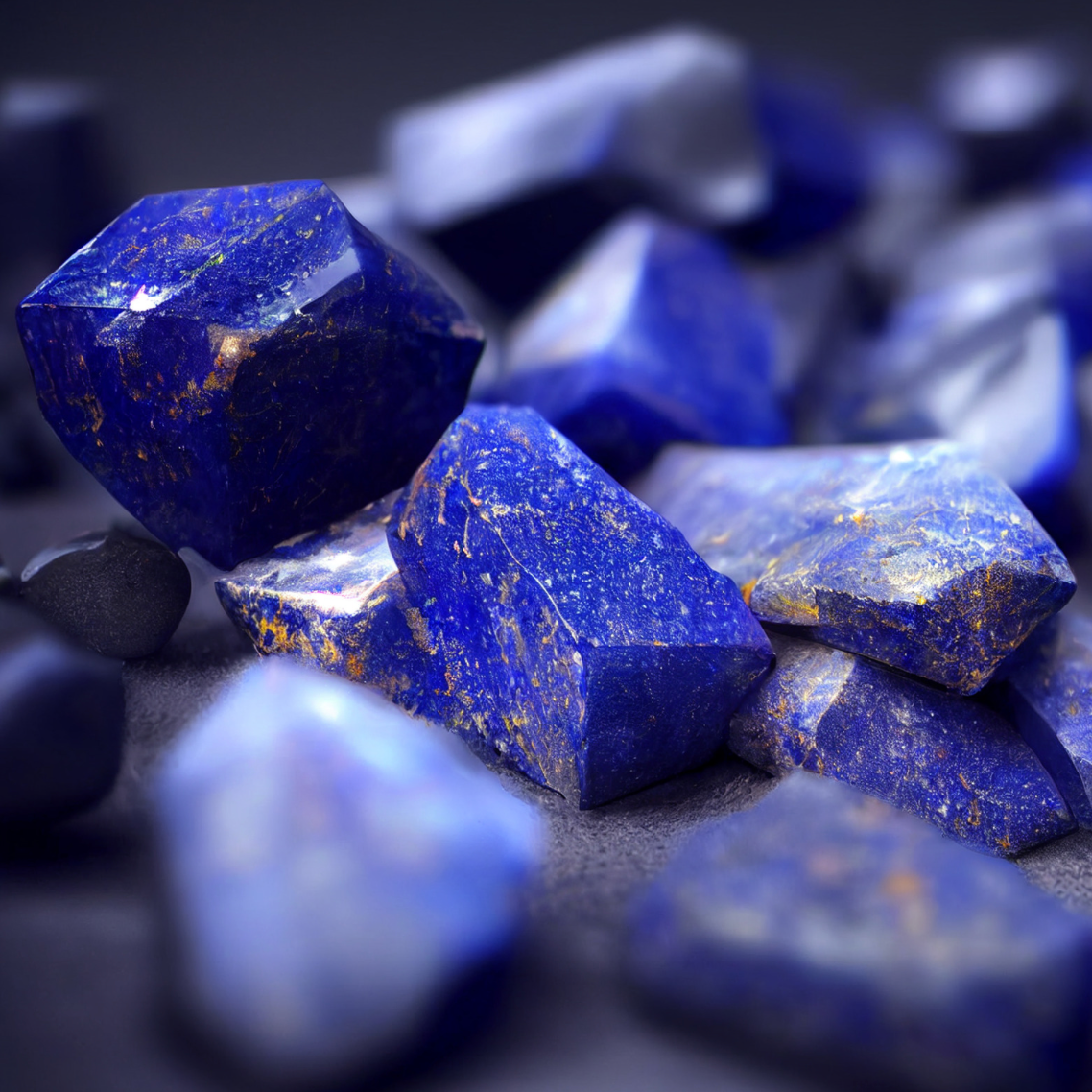 Lapis Lazuli Jewellery: Embodying Royalty and Spirituality
Lapis Lazuli Jewellery: Embodying Royalty and Spirituality
Hello dear one :) In this blog, we're diving into the captivating world of Lapis Lazuli, a stone that has been cherished for centuries for its regal allure and deep spiritual significance. So, go make a cuppa, and let's dive into the beautiful world of Lapis.
Lapis Lazuli: A Gem of Regal History 
The rich history of lapis lazuli takes us back thousands of years! Made up of Indigo blues with gold flecks folded Uniquly though each stone, Lapis Lazuli reminds us of a late summer nights sky. In ancient times, Lapis Lazuli was a prized gemstone, and it was no wonder that it adorned the regal headdresses and ornaments of Egyptian pharaohs and rulers. They believed that wearing lapis lazuli connected them to the divine, brought prosperity and protection, and helped open the heart to love. In fact, Lapis Lazuli is literally known as the "stone of the Egyptians!" The golden sarcophagus of King Tutankhamen was richly inlaid with Lapis.
Lapis Lazuli and Spiritual Connection
 Beyond its royal associations, Lapis Lazuli has also been revered for its spiritual properties. Ancient cultures believed that lapis lazuli enhanced one's intuition and inner wisdom, acting as a guide in their spiritual journey. It's like wearing a piece of the cosmos, and its vibrations seem to resonate with our souls, encouraging personal growth and understanding.
Creating Lapis Lazuli Jewellery 
As a jeweller, the process of crafting lapis lazuli jewellery is both an art and a labor of love. Sourcing the finest Lapis Lazuli gemstone beads can be a little bit of a mission, we strive to find the ultra dark stuff so the gold flecks really pop! Each piece tells a story, and it's humbling to see how Lapis Lazuli continues to inspire awe and wonder in our customers.
Lapis Lazuli Bracelets: Channeling Spiritual Energy 
Lapis lazuli bracelets are not just beautiful adornments; they also serve as a conduit for spiritual energy. 
The Spiritual Connection: Lapis Lazuli and Inner Growth 
Aside from its external beauty, Lapis Lazuli is believed to stimulate our inner growth and self-awareness. Just like our relationships, personal growth thrives on effective communication and understanding. 
The Power of Communication in Relationships 
Effective communication is the cornerstone of any healthy relationship, be it with a partner, family member, or friend. It's like the secret ingredient that binds us together, allowing us to express our thoughts, feelings, and desires openly. Lapis Lazuli is seen as a symbol of effective communication. It can help you say what you need to say in a very clear and calm way, and can serve as a reminder of commitment to honesty and act with love in relationships.
As we conclude this little journey through the world of lapis lazuli jewellery, we're reminded of the immense joy it brings us to witness the transformative power of these stones in people's lives. From its long history to its spiritual significance, Lapis azuli is more than just a gemstone; it's a connection to the cosmos and a reflection of our inner selves.
So, dear one, we hope these words have inspired you to embrace the beauty of Lapis Lazuli and allow its symbolism and magic to enrich your life. We truly feel like Lapis can be a beautiful source of inspiration and a reminder of your own inner strength and wisdom as you move through out life.