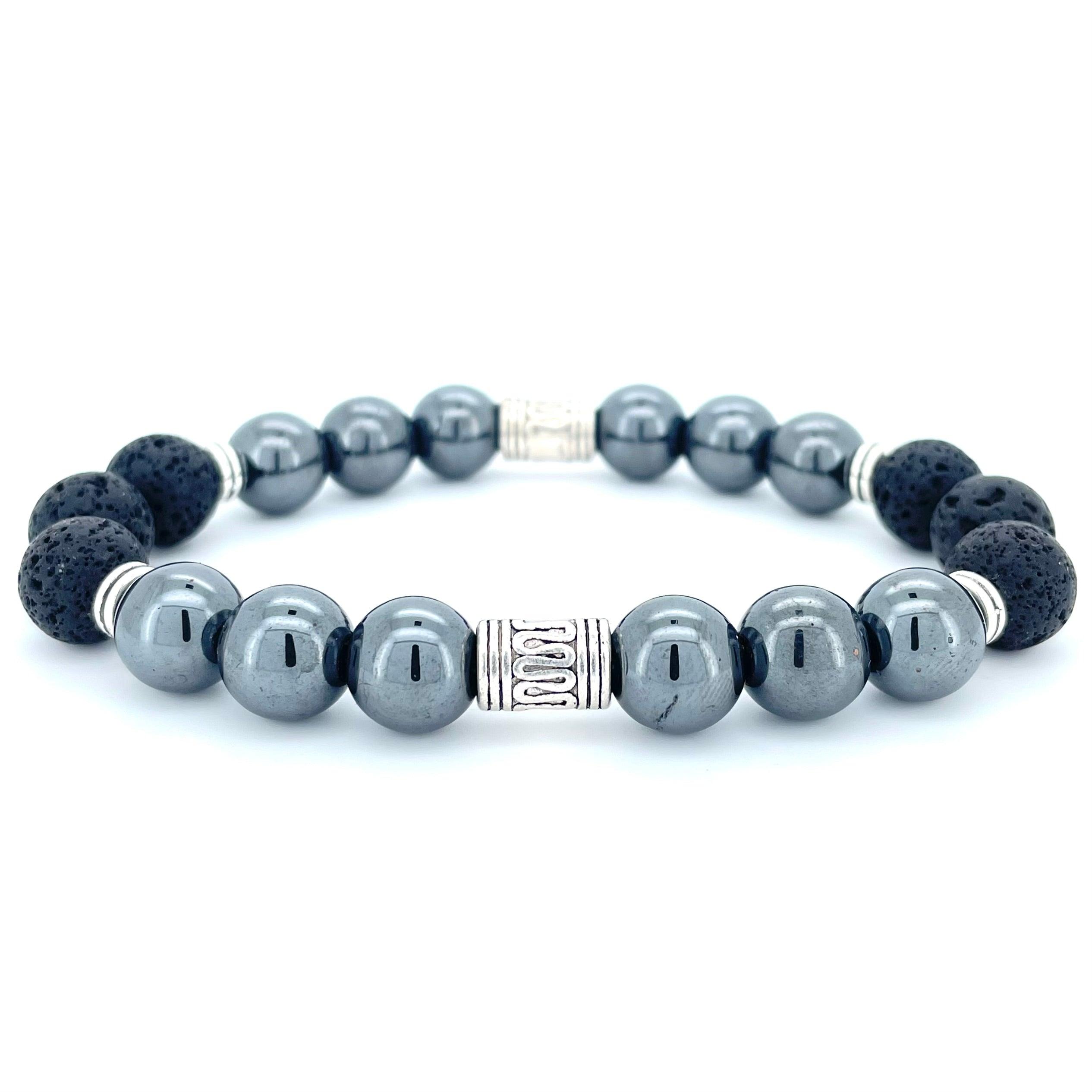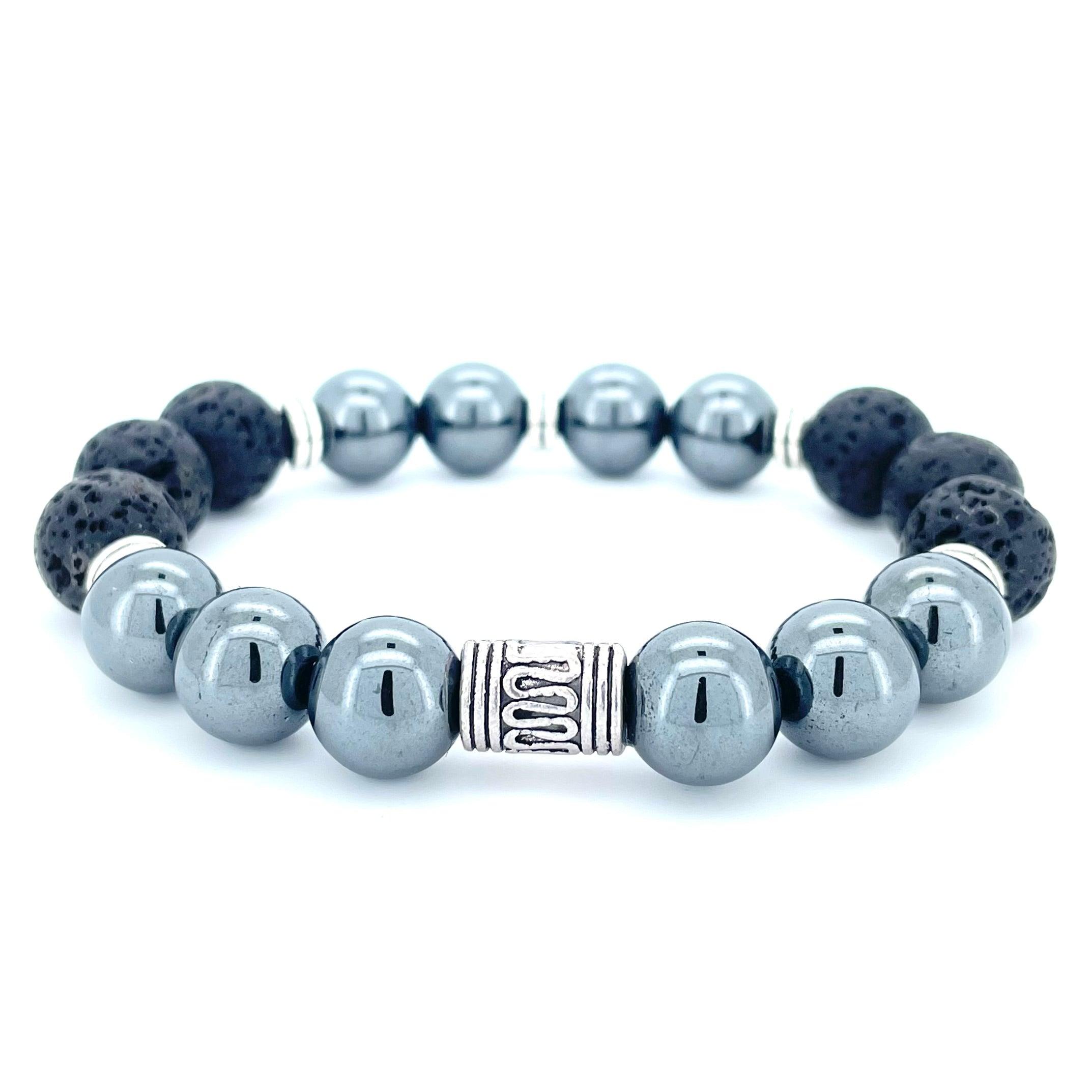 HEMATITE & LAVA STONE BEADED BRACELET - EXODUS COLLECTION
Sale price

$23.00
Regular price
(/)
---
HEMATITE & LAVA STONE
CRYSTAL BEADED BRACELET
In stock and Ready to Ship
Handmade and owned in Australia
Shipped with-in 24hrs
Comes in a sustainable gift box with a crystal card
Lava Stone is a porous crystal that can have essential oils dropped into it.
Our Lava Stone Bracelet collection features 10mm natural crystal gem stones and Tibetan silver findings, thread on the highest quality jewellers elastic available. 
Our crystal beaded bracelets are the perfect weight. Light enough to wear all the time, heavy enough to feel the quality of the gem stones. Putting the bracelet on can act as an instant moment in mindfulness and impart gentle inspiration. Whatever stones you have chosen and for whatever reason, you can be reminded of their specific healing energy as you slip them on.

Strung onto elastic cord and available in 2 sizes, they're strong and stretchy and will fit most wrists.
Our crystal beaded jewellery is designed and handcrafted by us from our home studio.
Each natural crystal bead holds a visible world of magic.

HEMATITE
COLOUR: Metallic silver.

HISTORY:  Hematite has been used in magic for over 3000 years. In ancient Babylon, it was carried by warriors for protection and strength.

CRYSTAL MEANING: If you a drawn to Hematite it could be a sign that you are in need of more grounding and balance in your life. Being grounded means you are well connected to the Earth and your surroundings. 
Known as a stone of clarity, Hematite is here to help you realise what is important and steer clear of any confusion or misinformation. It is a powerful protection stone that helps one create personal boundaries and put up barriers to negative energy and negative people. Hematite is strongly linked to the Root Chakra, the centre of security and survival. By creating a strong sense of energetic stability, this crystal is said to work in aligning and clearing the Root Chakra to help one feel more balanced, centred and secure. 

LAVA STONE
COLOUR: Matte Black. 

HISTORY: Thought of throughout history as a symbol of creativity and re-birth. 

CRYSTAL MEANING: This Lava Stone bracelet allows you to wear the universal themes of rebirth and renewal throughout the day. Lava stone is also a symbol of transformation, evolution and power. It is a powerful grounding stone that is said to help strengthen ones connection to Mother Earth and their surroundings. Lava Stone is pure, raw energy… born from erupting volcanoes it is said to bring a fiery energy to ignite creativity.

METAL: Tibetan Silver

SHORT LENGTH: 18.5cm
LONG LENGTH:  21.5cm
Our jewellery is made from natural crystal stones, which means colours may appear slightly different from piece to piece.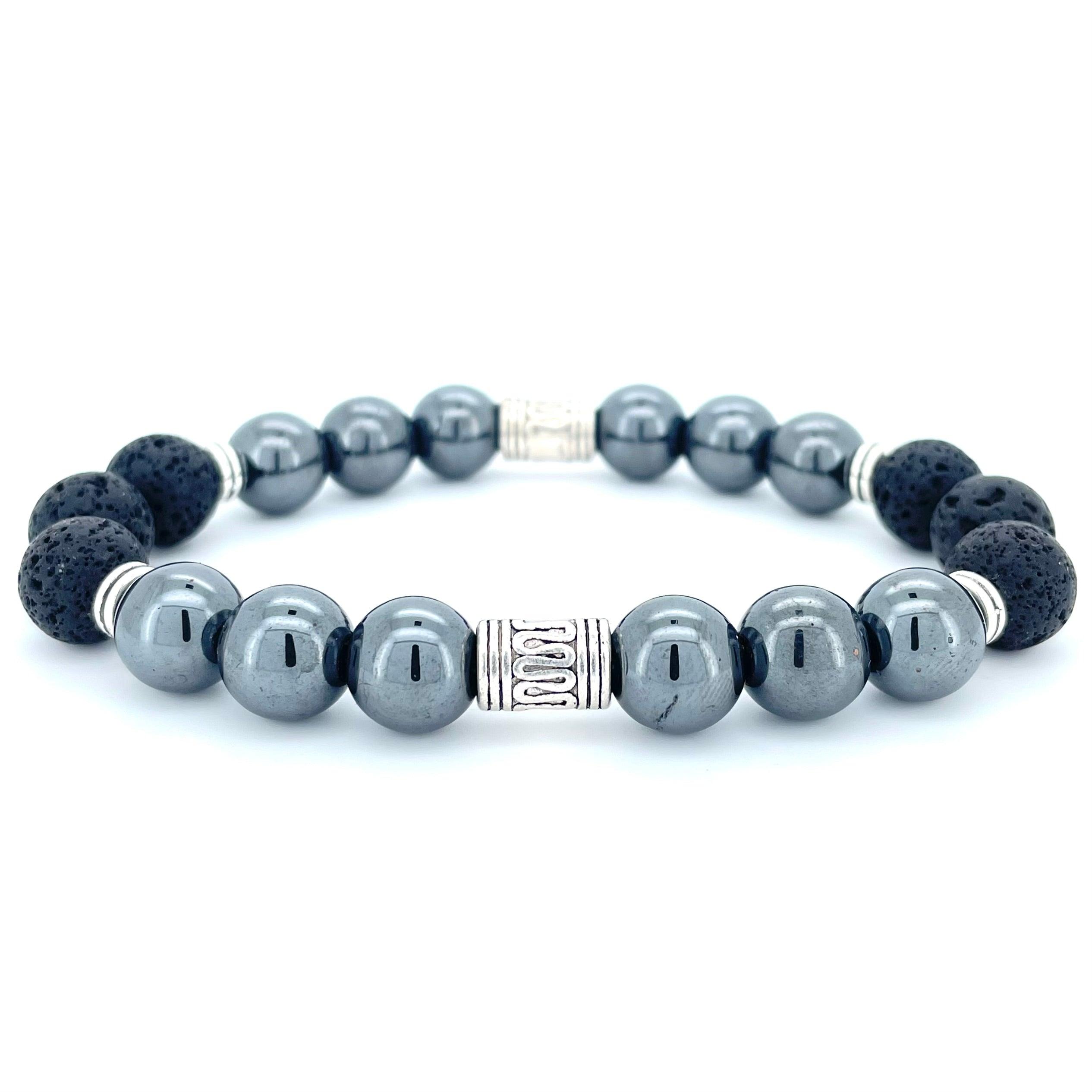 HEMATITE & LAVA STONE BEADED BRACELET - EXODUS COLLECTION
Sale price

$23.00
Regular price
Choose options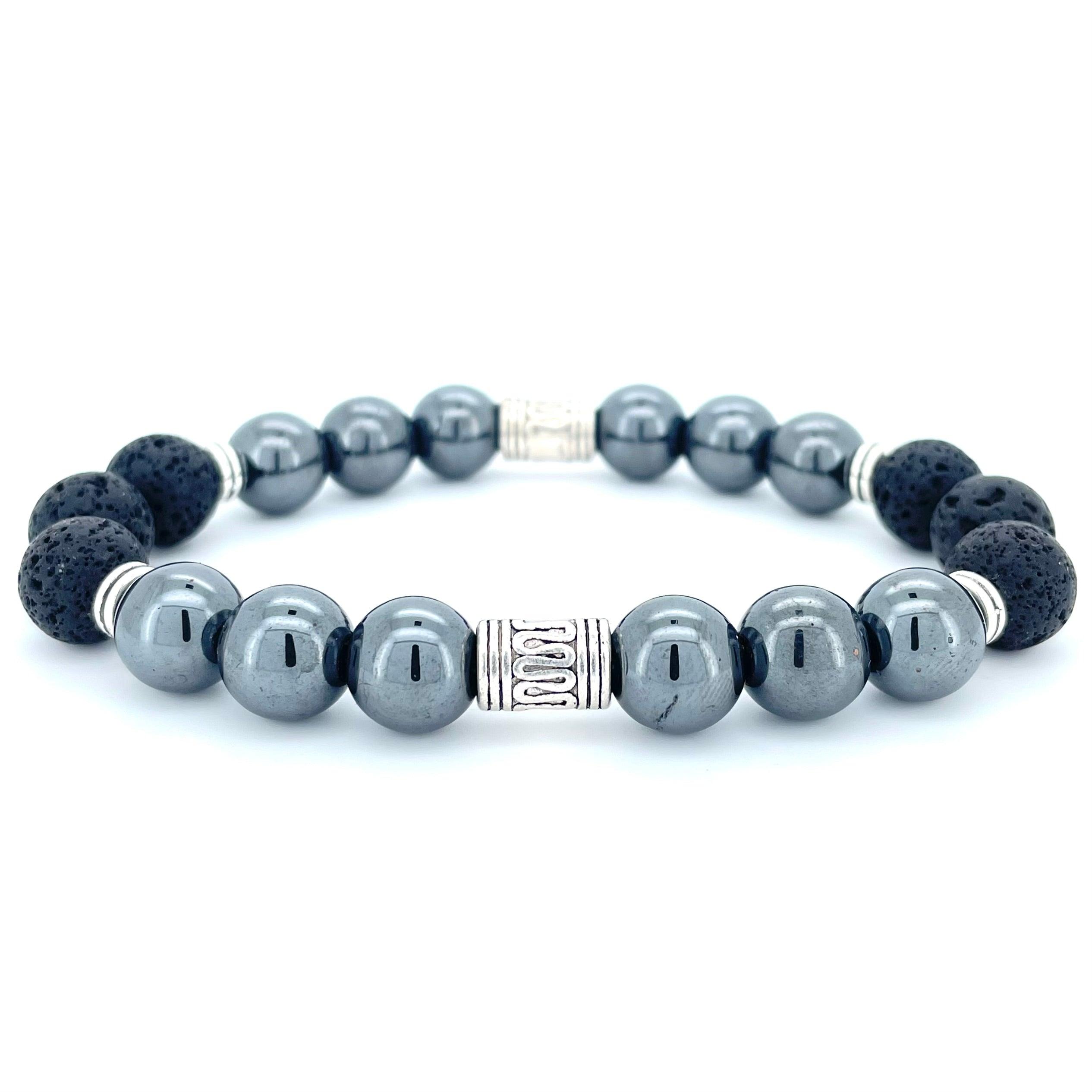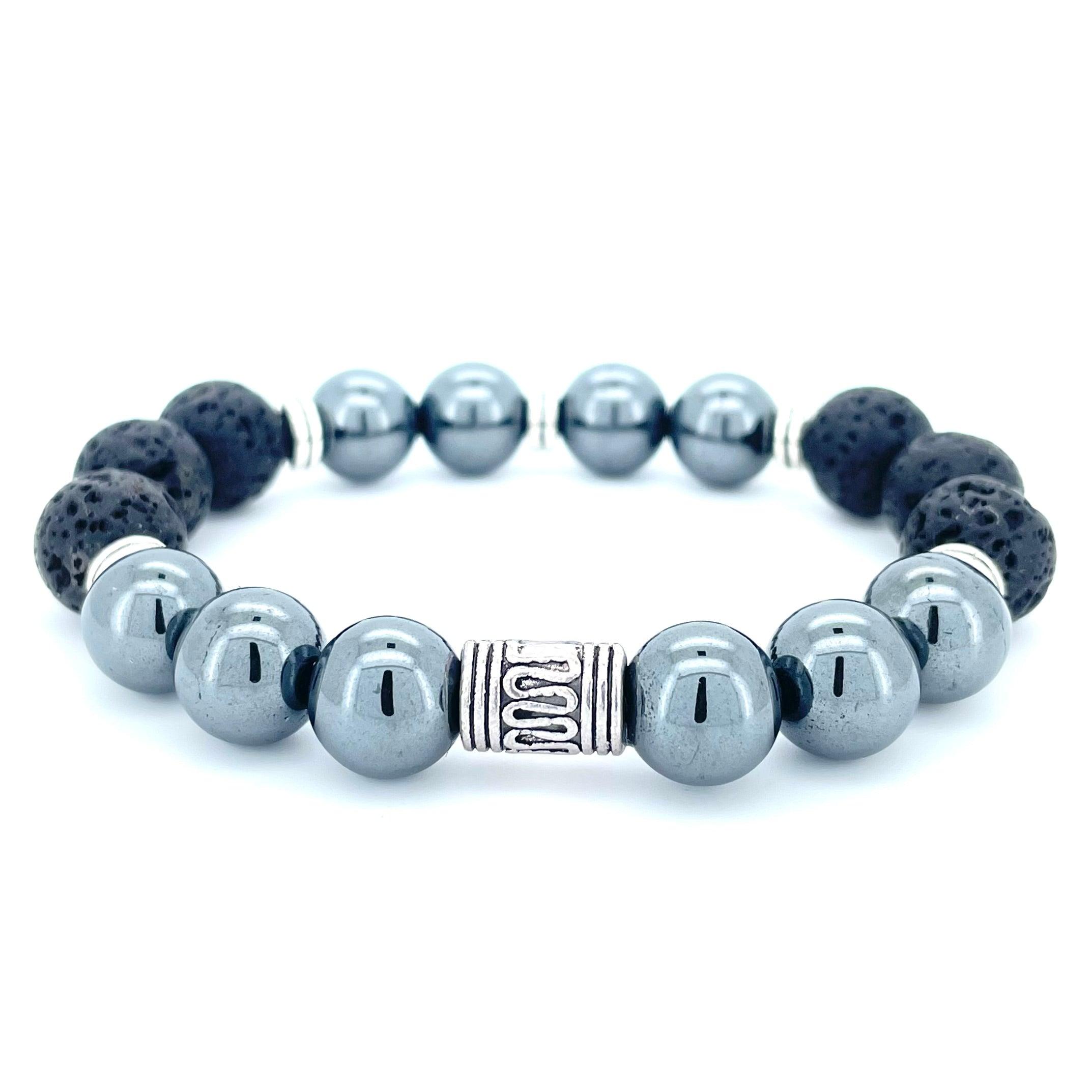 I purchased one of these for myself as hematite is suppose to be helpful for arthritis. I was going to purchase the solid hematite bracelet but after emailing with the owner she said I could drop essential oils into the lava stone and that a grapefruit oil might help too. So I did that, and have just come back to purchase 3 for my friends with arthritis. Thank you for your help and time, we are very happy customers!